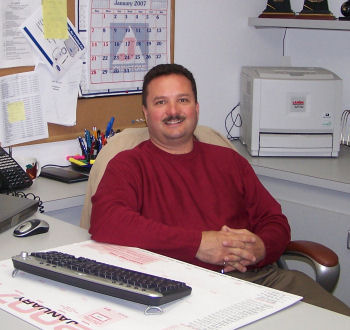 How we got started....
Gary and Jim Whitlock started Able Air after moving to Florida in 1980. The two worked together until 1985, when Gary took over the business himself.
Able Air has become Brevard County's largest residential and commercial service provider along with being Brevard's installation specialist.
We have 65+ team members and 37 vehicles all working toward the same goal - Able To Be There When You Need Us. Gary Whitlock has a simple philosophy when it comes to business - Listening. Able Air, Inc. has taken that simple concept and used it as the foundation on which to build one of the largest air conditioning sales and service providers.
We care about our customers and employees. We listen to our employees. The 65 team members employed at Able Air have ideas that help make our business and reputation grow. Mr. Whitlock also believes in loyalty to employees and customers. In the business world of buy-outs and consolidations we have established a hometown business devoted to providing sales and service without having to answer to out of town corporate heads with their minds strictly on the price ledger.
We go out of our way to make sure our customers are happy with all our products and services.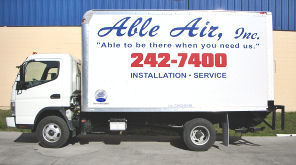 "Able To Be There When You Need Us" is our motto and Able Air has kept that promise for more than 27 years. Able Air provides 24-hour service with 37 vehicles on the road.
Able Air provides complete system design including heat loads and E.P.I. for new construction and complete system change outs and upgrades to meet FPL requirements, which Able Air is a representative for.
Able Air completes 2000+ new homes a year in new construction. 1500+ complete system change outs per year along with servicing 20,000+ customers a year.
Able Air offers excellent service from loyal, dependable people with over 200 years of service history. For fast, quick, efficient air conditioning sales and service from a company whose motto rings true, think Able Air at 5075 Industry Drive, Melbourne, Florida 32940, (321) 242-7400 for all your air conditioning, heating, and refrigeration needs.